Tips for buying the best air conditioners in Ghana
Air conditioners have become a part of lives in Ghan, since high temperature makes our environments inhabitable and eventually poses risk to human life, It has become necessary to help buyers overcome the problem of making choice. Especially, where you are confronted with series of awesome products, this guide/pointers will help you to know everything before buying any Air conditioners in Ghana.
The article is perfect for you if you just got a new office space, house, Shop, Store or you are planning on renovating your old house with a touch of a portable Air conditioner, of which you had no formal idea or knowledge about.
Air Conditioner buying guide in Ghana: There are series of best Air conditioner brands in Ghana, such as Samsung, LG, Nasco, Aux, Nexus, Chigo, Midea, Hisense, Signature, Gree, Pearl, etc but today, you will get to know what and what to check before buying a Air conditioner in Ghana.
Space/Room Size
| | | |
| --- | --- | --- |
| NO. | ROOM / SPACE AVAILABLE | CAPACITY/Horse Power |
| 1 | 12-15 Square feet | 1.5 HP |
| 2 | 16-18 square feet | 2.0HP |
| 3 | 18-20 Square feet | 2.5 HP |
| 4 | 21-22 | 3.0HP |
Before you buy an air conditioner it is right to know the dimensions and size of the space or building to be conditioned. A measure of the room area can help you determine required air conditioners capacity. The larger the room space the more capacity required from the AC. You need to take this space information to the electronic shop.If you need air conditioning in a building with a lot of rooms, it may be a good idea to consider a central air conditioner than buying lots of units of Windows or Split unit air conditioners.
If you are to buy a floor standing AC, you must also determine the space it will be mounted on. Measure the maximum space allowed for the air conditioner; take it along with you to the Electronic shop. Buy floor standing air conditioners that can fit within the measured space.
If you intend buying window mounted air conditioners, measure the dimension of the window. Take along your measurement with you to the electronic shop. Ensure that the dimension of the AC will fit into your window dimension with little or no civil work.
Types of Air Conditioners in Ghana
The are many types of air conditioners in Ghana that serve different purposes. it is important therefor to know the various types and what it could be used for.Before we go deeper to finding the perfect AC for your home or office, you should know the major types of Air conditioners, there is the:
Split Air Conditioners
There are also the High wall split air conditioner units. These models are split units because unlike the Windows air conditioners that come as a single unit, split units come with two units (an indoor unit and an outdoor unit).
Through a hole cut in an outer wall the two units are connected together. Split air conditioners allows the installation of air conditioning without blocking off your Windows.
Price for this units range from 2200 Ghana Cedis to up to 3800 Ghana cedis . For latest models and prices of Split Unit Air Conditioner, Click Here
Floor Standing Air Conditioners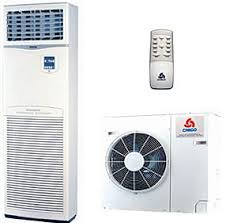 The floor standing air conditioners models are mounted on the floor. These are the Air Conditioners we often see standing at the banking halls. This very type comes in two forms. The smaller sizer are known as the portable Air conditioners.
There portability is derived from the fact that they are not fixed (or attached) to a wall or window, which means their position in the room can easily be changed. Some may even come with wheels to make movement easy.
For latest models and prices of Floor Standing Air Conditioner, Click Here
Ceiling Cassette Air Conditioners
Ceiling cassette air conditioners are as the name implies mounted on the ceiling. Being on top also means they can circulate air more efficiently.
However, they require expert installation as you will need to run duct from the air conditioner to the condenser unit located outside. Ceiling cassette air conditioners come in high capacities and are designed for larger rooms.
For latest models and prices of Ceiling Cassette Air Conditioner, Click Here
Windows Air Conditioners
The windows air conditioners are mounted on windows as your can relate from the name.
A windows air conditioner depending on its capacity can comfortably cool rooms ranging from 10 square metres to up to 60 metre square.
These air conditioner models are usually cubic in shape, but are increasingly taking more attractive shapes.
For latest models and best prices of Windows Air Conditioner, Click Here
Best Time to Buy Air Conditioners in Ghana
The best time to buy an air conditioner in Ghana is when few people are shopping for it. This is usually during the rainy season when the weather is cool..
If you buy your air conditioner around this time, you are more likely to get it at a low price. Waiting until the hot months when most people suddenly remember they need an air conditioner will get you caught up in demand rush that will result in higher purchase price. so let's plan ahead of time and buy our Air conditioners during the cool month.
Checkout Air Conditioner Prices in Ghana.
Other AC features to consider
The popular features to consider in air conditioners in Ghana are:
Bacteria/germ/odour elimination (clean safe air): example Silver Nano from Samsung, Nano Titanium from Hitachi
Remote Control
Adjustable thermostat
Variable Fan speed
Slide out filter: for easy maintenance and cleaning
Digital temperature control
Sleep settings
Adjustable Louvers
Motorized Louvers
Intelligent Cooling
Copper/Gold fin
Warranty Period
Just as with purchasing any other product, knowing the warranty period and the warranty coverage to securing your interest.
Every big and expensive appliance have their own warranty period, and what is the warranty period of that Air conditioners that you are about to purchase? Any warranty beyond 1 year is an assurance of the dealers trust in the brand.
Keep it in mind that getting Air conditioners comes with a great price, due to its expensiveness. With this fact, you are advised to purchased an Air conditioner that have longer warranties. Reason: they might crash anytime and if there is no warranty, there is no replacement.
Best Price
Once you have a fair idea of the air conditioner you want to buy, you should then find out the price. Prices of air conditioners increase as capacity and number of features increase. You need to do a market survey to determine the price options available to you.
Call or visit an authorised air conditioner dealer to determine prices. Note that prices of air conditioners also vary across brands.
If you are in Ghana, you can visit our authorised AC dealer list, call or visit the dealer closest to you or you can just Buy Air Conditioners Online.
For latest prices at Amazon, Click Here
At Shopbeta you will find Air Conditioners and accessories from world leading brands. You can compare prices and read feature information of any product at Shopbeta Online Mall. You can also read reviews of air conditioners at Shopbeta Ghana. These reviews include the experience of visitors who recently bought the air conditioner you intend to buy. Finally you may also decide to also buy.